Centre de Ninjutsu du Québec
Ninjutsu Montréal, Québec, Canada

WHERE?

The Centre de Ninjutsu du Québec is located in Dorval at the intersection of Pine Beach and Chemin Herron.

It is accessible by car from highway 20 or 520, by bus 211 from the Lionel-Groulx subway station, or by suburban train (Pine Beach station).

HOW?

How to get in touch? Simple, just email Pierre Benoit at hypnoaide@videotron.ca or leave a message with your name and number at 514-472-3535 saying you're interested in Ninjutsu classes.

WHO?

The instructor is Shihan Pierre Benoit, 10th Dan of the Bujinkan Dojo.

WHEN?

Classes are Tuesdays from 8:30pm to 10pm, and Thursdays from 7:30pm to 9:30pm. .

Here are some more answers you might be interested in…
Frequently Asked Questions
Some ninja music, to entertain while you learn more about ninjas.

1 - What are the ranks in Bujinkan Dojo Ninjutsu?

You start with a white belt, which you can consider as unranked or Mu Kyu.

There are 9 ranks of green belt, from 9th to 1st kyu. Some dojos allow women to wear red belts instead, and some grant a brown belt from 4th to 1st kyu, these being the senior students who help the teacher with junior students.

There are 15 levels of black belt, from 1st Dan (Shodan) to 15th Dan (Jugodan).

The 5th Dan test is rather remarkable, the rank at which one is recognized as a full instructor (Shidoshi). From 1st Dan to 4th Dan, the black belt practitioner is a junior instructor (Shidoshi-ho). To pass the 5th Dan test, one must sit with their eyes closed and wait to be attacked from behind with a shinai (a wooden sword). When the attack comes, they must sense the danger and roll away. If you don't, you fail. From 5th Dan to 9th Dan, the black belt practitioner is a full instructor (Shidoshi). From 10th Dan to 15th Dan, the black belt practitioner is referred to as a Shihan.

Shihan Pierre Benoit, instructor of the Centre de Ninjutsu du Québec, is 10th Dan (Judan).

2- How long will it take me to reach black belt?

It takes about 3 to 5 years of regular practice. But hey, it's the journey, not the destination, right? You don't need a black belt to feel more confident in your ability to defend yourself. As your experience grows, you'll notice your attitude changes as well.

3 - What do I need to wear?

Training uniforms are black. When it's really warm in the summer, we often wear black t-shirts instead, but these must have sleeves that reach at least to the middle of the upper arm so we can grab the sleeves. The rule is, if the teacher's wearing a t-shirt, it is okay to wear a t-shirt.

4 - What is practice like?

First there is a brief ceremony in which teacher and students bow to ask each other for help in learning. This is followed by warm-up and stretching exercises known as Junan Taiso (body conditioning).

The teacher demonstrates techniques and students pair up to practice them. Students take turns being the Tori, the one who is practicing the technique, and the Uke, the one who receives the technique. Typically, the Uke is the one who attacks with a grab, punch or kick, and ends up on the ground at the end of the technique.

The training session ends with a similar ceremony but then teacher and students bow to thank each other for the learning. Even the teacher learns in the process of teaching a class.

Outside of those two bits of ceremony, the attitude in the dojo tends to be very informal and relaxed. Respect is shown to the teacher and to each other, but there is also room for humor. Jokes are often shared during the warm-up. We also show respect to the training space by bowing when we enter and leave the training area.

5 - Can women be ninjas?

Yes.

Historically they were called Kunoichi and were specialized in skills of infiltration and covert influence more than field combat. Nevertheless, they were skilled warriors who used weapons disguised as ladylike items in addition to more traditional weapons. Many of them would have been trained to pose as geishas, dancers or servants.

It is believed that among the 9 Ryus (styles) taught by the Bujinkan Dojo, the oldest and most fundamental one was founded by a woman, either a princess or lady in waiting of the courts of China: Gyokko Ryu Koshijutsu.

Gyokko Ryu, "The Jewel Tiger School" has the most complete fighting method of all surviving scrolls we have, and features core techniques of our curriculum: the Sanshin and Kihon-Happo. It uses circular movements and fast strikes targeting vital points, nerves and soft tissues (as opposed to the Koppojutsu styles which focus on attacking bone structures). The main tactic of Gyokko Ryu is to constantly maneuver the opponent into changing direction and keep them off balance.

When a ninja says "You fight like a girl," they're paying you a compliment. It means your attacks are cunning, unexpected, precise and effective, rather than based on brute strength.

6 - You say there are nine schools? What are they?

Each family had their own secret techniques and scrolls. Many of them died out, but 9 of them survived and are taught by the Bujinkan dojo.

Togakure ryu Ninpo Taijutsu
Gyokko ryu Kosshijutsu
Kukishinden ryu Happo Bikenjutsu
Koto ryu Koppojutsu
Shinden Fudo ryu Dakentaijutsu
Tagaki Yoshin ryu Jutaijutsu
Gikan ryu Koppojutsu
Gyokushin ryu Ninpo
Kumogakure ryu Ninpo

7 - Do you have cool weapons?

We train with a variety of weapons, but the most common ones are the wooden sword (katana), wooden knife (tanto), 3 and 6-foot staff, cane and weighted rope. In fact, weapons are just an extension of your body. The techniques are pretty much the same whether you're using your arms or a stick, and you shouldn't forget all your other weapons (feet, fists, head, elbows, etc.) just because you're holding onto something sharp. A ninja can use anything as a weapon if the situation demands it, so we learn to think in terms of type of weapons.

Blunt: Sometimes it increases your reach, like a broom; sometimes it's just a hard thing to whack people with, such as a phone. Just look around you now, and realize almost everything around you could be used as a blunt weapon if you had to defend yourself.
Sharp: It cuts or stabs. It could be a broken glass, a pair of scissors, or a pen.
Flexible: Sure, a weighted rope or chain can make a good weapon, but you can entangle someone just as well with a phone cord or a hoodie. A hoodie can also be used to cover an opponent's head and temporarily blind them.
Thrown: If you can throw it at someone's face and not miss, you'll get at least a second or two where they're distracted. That might be all the time you need to escape or grab a better weapon. Thrown objects typically don't do much damage, but they don't need to. This category also includes blinding powders (got your pepper shaker handy?) and the old "handful of dirt in the eyes" trick. Fire extinguishers do the trick nicely too. Spray them, and then use it as a blunt weapon. Shuriken (ninja stars) and arrows are also in this category.
Explosives: Though we don't train with firearms as part of the class, it's good if you can learn how to use them.

8 - What skills will I learn in class?

André learns not to steal
Gille's lunch money anymore.

Also, a nice demonstration of
the Ura Gyaku wrist lock.

Taihenjutsu (body movement): Also known as the directions of escape, is learning how to not be where the opponent is striking. That can mean moving away in one of the 8 directions, plus up or down or moving in closer to the opponent. Sometimes all you need is to shift your hips or angle your body to let the strike pass you by. It's sometimes safer in the eye of the storm than farther away, especially if your opponent is using a long range weapon such as a staff or baseball bat. You also learn to keep your knees over your feet, shift your weight over one foot or the other (so your leg can't be swept from under you), and not lean your upper body past your point of balance.

Ukemi (Breakfalls): We fall down, a lot, so it's crucial to learn how to fall without hurting yourself. You'll learn how to safely fall forward, backward and sideways.

Kaiten (rolls): Sometimes, falling isn't enough. There's too much force as you're sent to the ground (i.e. you've just been thrown out of a moving car), so instead of absorbing that impact, you learn to roll away. Think about it, if someone throws you down, wouldn't you prefer to roll away from them to escape rather than stay in range of their kicks? We literally bounce off the ground and back onto our feet.

Dakentaijutsu: Striking skills, attacking either soft tissues (koshijustsu) or bones (koppojutsu).
Blocking skills: Sometimes they're used to deflect an attack, sometimes we actually strike the limb that's about to hit us. If you disable an arm or leg, that's one less weapon for your opponent to use against you. Blocking is a way to "receive" an attack. Blocks are part of Dakentaijustsu.
Jutaijutsu: Grabs, arm locks, wrist locks. Often the idea is to cause enough pain to make the opponent stop attacking you. If they give you no choice or there are multiple attackers, you can break the joint (wrist, elbow, knee…), but we try to avoid that. If you break their joint, you lose control of the body.
Nage: Throwing someone down. Or up. Up hurts more. Whee! Throws are part of Jutaijutsu.
All of the above are part of Taijutsu (body-skills). There are also mental skills and spiritual skills which are taught in the higher levels.

9 - Do you have animal forms like Kung Fu?

No, we have elemental forms. They are attitudes you can take in a fight, to create an illusion or to gain a certain advantage. The 5 elemental attitudes are:

Earth: I am a mountain. The attack is insignificant. There is well grounded movement.
Water: Receiving, retreating diagonally, and then crashing back like the waves.
Fire: Aggressive and direct. Destroy the intent to do harm quickly.
Wind: May have a feeling of a soft breeze or the feeling of a hurricane depending on the situation.
Void: Being open to the potential of the situation.

We don't have static postures (Dachi) like some other martial arts. What we have is attitudes or transitory postures (Kamae). During practice, we go through these forms more slowly to acquire body memory of them. Some of the main Kamae are:

Shizen No Kamae: Natural posture. Your feet are pointing forward, hip width apart, and your arms hang loosely on the side. We use this a lot, it is how you're likely to be standing if someone suddenly attacks you. It is an Earth posture.

Ichimonji No Kamae: First posture, a defensive posture where most of your weight is on the back leg, protecting your front leg from sweeps as well as leaving it free to kick without taking the time to shift your weight. It also allows you to quickly move away, or rock forward for a strike. It is a Water posture.

Hira No Kamae: Flat posture. The hands are up, apart and shoulder height. It is like an "open" posture as if trying to say "Hey man, I don't want to fight." This is often used to dodge an incoming strike, like opening a door to let it go through. This is a Wind posture.

Jumonji No Kamae: Tenth posture. Fists are crossed in front of the chest. It is a strong and explosive Fire posture for directly attacking.

Hicho No Kamae: Crane posture. Your leading leg is up, the sole of that foot is near your calf. It's not a posture you hold a long time. Either you just removed your leg so it wouldn't get swept or kicked, or you're in the process of doing a kick yourself. It can be considered a Void posture, because you're making your leg disappear unexpectedly.
10 - Do I have to be athletic to do ninjutsu?

No. In fact, if you're using strength, you're probably not doing the technique properly. Timing, balance, distancing, weight transfer and precision are what make techniques powerful. Physical strength is not required. Flexibility is more useful, but that improves with practice. Pierre often says "using minimum effort for maximum effect."

11 - Do you have a sense of humor?

Certainly! And we encourage you to bring yours along! We like to enjoy our training. Even though we train hard, we want to keep the students relaxed so that they can apply the techniques properly.
A video for the same song, by S.J. Tucker.
---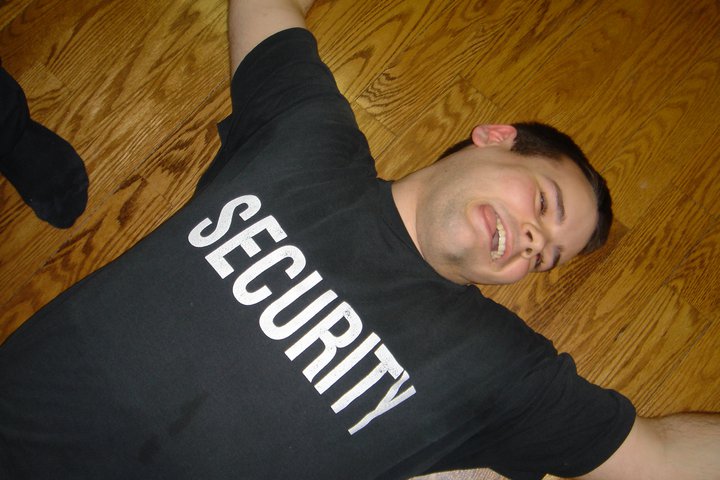 It was a particularly hard class for our 3rd dan black belt student Dan...
---
Are you excited about training with us?
Because we sure are! We're looking forward to playing and learning with you!